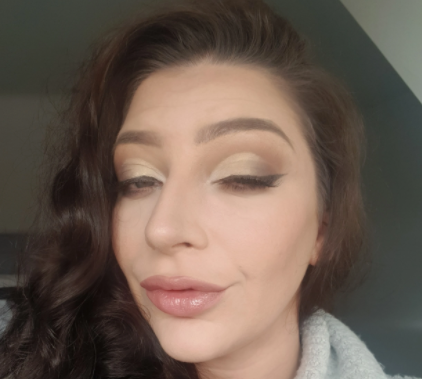 Hello my Lovely's 
This is again another commonly asked question so I thought I would do a quick little video to show you exactly how to contour to put some definition back in your face without it looking muddy. 
1) Bronzer will

 

NOT

 

cut it! 
You need to use a product that has a cool/greyish undertone, 
What I mean by this is, bronzer has an orange undertone, let me show you what I mean....
So the product on the left is a bronzer, this has an orangey undertone to it. the product on the right is contour and as you can see from the picture it is not an orangey brown it's actually a cooler/greyish toned brown. 
When we contour we are creating the illusion of shadows, creating a shadow under our cheekbones it makes it appear slimmer and makes the cheekbones appear more prominent. Shadows aren't orangey (warm) toned they are cool toned and this is why you don't want to use a bronzer or anything warm toned to contour with. 
Sometimes when we use foundation all over the face it can make us look very 1 dimensional and take the natural shadows out of our face so by contouring we are putting those back in again, it gives depth and dimension to our faces. 
2) Contour for your face shape. 
This is a common mistake, We see these girls on Youtube or Instagram contouring their face, try it on ourselves and actually we don't like the way our face looks...this is usually because we have contoured for their face shape not our own. 
for instance, if you have more of a square shaped face, you don't want to contour in a straight line across your forehead, by doing this it will square your face off much more, instead you want to soften the corners of your face. 
find your face shape below and this will show you where to apply your contour. 
P.S.- Can we just pretend that my colouring in on a computer is better than it actually is? Thanks 😂
P.P.S - This is just to show you where to apply it, it will not look like this once you have blended it out. 
To find your face shape you want to look directly ahead in the mirror and look at the outside perimeter of your face and see which shape it matches up to the most. 
3) Use 2 different brushes 
By using 2 different brushes, one to apply it (Angled Contour Brush) and another one to blend it out (Powder Brush) it allows you to get a softer more natural looking contour and helps you to avoid applying to much.
Sometimes when people have tried to contour and found it just made them look muddy or dirty the reason is they applied the product to one brush, and then tried to blend that product out with the same brush, the brush still has product left on it so you are just rubbing more and more contour over your face instead of blending it out. 
I hope this video has helped and answered any questions you had about contouring. 
Much Love & Speak Soon 
Feb 22, 2021

Category:

MY DIARY
Comments: 0